I am fundraising for Pancreatic Cancer UK.
Updated 5/1/22: 
In a nutshell:

👉 I have terminal pancreatic cancer with a prognosis of 2 years to live (at most) from my diagnosis date (May 2021)
👉  I had no symptoms and was told on my first visit to the consultant that there was no cure
👉 Funding is needed by Pancreatic Cancer UK to continue the breakthrough research into an early diagnosis to prevent deaths

👉 This can easily happen to someone else you know (and hopefully not!)

It is for this reason I am asking for your help so no-one faces what I have had to.
See the updates for more details on the fundraising campaign or contact me and I would be delighted to help you organise something.
A massive thank you in anticipation.
Jen xx
**If you want to set up your own fundraising page either here with Pancreatic Cancer UK or with Just Giving (for example) then just let me know and the great fundraising support team at Pancreatic Cancer UK will add your total to my page** Thank you 😍😘 Superstar fundraisers 🤗🤩🥰
My donations could fund...
706

hours

with a nurse on our Support Line
or
316

hours

of early diagnosis research
My Achievements
Reached 100% of goal
Reached 50% of goal
Shared page
Self donated
My Updates
THE CAMPAIGN HAS STARTED - 4th February 2022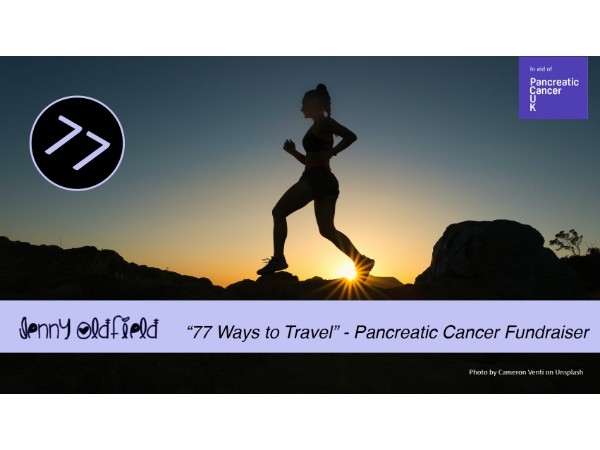 The
'77 Ways' campaign has started and what great results all those runs and walks have generated so far. And there are lots of exciting events to come. I am both humbled and grateful for everything you are doing.
If you haven't yet - I would love you to get involved
There are so many ways that you can make a real difference. After all, '77 Ways' gives you loads of scope for fun fundraising events to help raise much-needed funds for Pancreatic Cancer U
You could travel a distance, travel through an era or travel through an experience. 
Your support could help Pancreatic Cancer UK get closer to a breakthrough in early diagnosis and put a spotlight on the disease.
Please see a few more suggestions below as to how you can participate. The only limit is your imagination! Let's see how much noise and money we can raise before the final tally up date just after 7th of July 2022? 
Remember, it's not just about the money, not enough people know about pancreatic cancer and what it does if it's diagnosed late – what we're doing is helping raise awareness.
So, please send me your photo's to share here, so we can create a buzz and make a real difference! 
*Here are just a few of the amazing events that people have organised so far:
👉 𝘈 𝘴𝘦𝘷𝘦𝘯 𝘮𝘪𝘭𝘦 𝘥𝘰𝘨 𝘭𝘰𝘤𝘢𝘭 𝘥𝘰𝘨 𝘸𝘢𝘭𝘬𝘪𝘯𝘨 𝘦𝘷𝘦𝘯𝘵
👉 𝘈 𝘮𝘶𝘴𝘪𝘤 𝘨𝘪𝘨 𝘱𝘭𝘢𝘺𝘪𝘯𝘨 𝘵𝘩𝘦 𝘣𝘦𝘴𝘵 𝘮𝘶𝘴𝘪𝘤 𝘰𝘷𝘦𝘳 𝘵𝘩𝘦 𝘭𝘢𝘴𝘵 77 𝘺𝘦𝘢𝘳𝘴
👉 40 𝘱𝘦𝘰𝘱𝘭𝘦 𝘳𝘶𝘯𝘯𝘪𝘯𝘨 7 𝘮𝘪𝘭𝘦𝘴 𝘵𝘩𝘳𝘰𝘶𝘨𝘩 𝘞𝘢𝘭𝘭𝘢𝘴𝘦𝘺 - 𝘢 𝘱𝘳𝘰𝘱𝘦𝘳 𝘧𝘢𝘮𝘪𝘭𝘺 𝘢𝘧𝘧𝘢𝘪𝘳 (𝘸𝘪𝘵𝘩 𝘵𝘩𝘦 𝘺𝘰𝘶𝘯𝘨𝘦𝘴𝘵 𝘣𝘦𝘪𝘯𝘨 5 𝘺𝘦𝘢𝘳𝘴 𝘰𝘧 𝘢𝘨𝘦 𝘢𝘯𝘥 𝘵𝘩𝘦 𝘰𝘭𝘥𝘦𝘴𝘵 𝘣𝘦𝘪𝘯𝘨 83)! 
👉 𝘈 7 𝘮𝘪𝘭𝘦 walk / 𝘫𝘰𝘨 / dance to and around a 𝘭𝘰𝘤𝘢𝘭 𝘱𝘢𝘳𝘬 𝘥𝘳𝘦𝘴𝘴𝘦𝘥 𝘢𝘴 𝘌𝘭𝘷𝘪𝘴
👉 𝘈 g𝘰𝘭𝘧 𝘥𝘢𝘺 𝘢𝘵 𝘵𝘩𝘦 𝘉𝘦𝘭𝘧𝘳𝘺 𝘸𝘪𝘵𝘩 𝘴𝘰𝘮𝘦 𝘧𝘢𝘯𝘵𝘢𝘴𝘵𝘪𝘤 𝘢𝘶𝘤𝘵𝘪𝘰𝘯 𝘱𝘳𝘪𝘻𝘦𝘴
👉 𝘈 𝘮𝘶𝘴𝘪𝘤 𝘨𝘪𝘨 𝘤𝘰𝘷𝘦𝘳𝘪𝘯𝘨 𝘵𝘩𝘦 𝘳𝘰𝘤𝘬 '𝘵𝘶𝘯𝘦𝘴' 𝘰𝘧 1977
👉 𝘛𝘩𝘦 7 𝘱𝘦𝘢𝘬𝘴 𝘰𝘧 𝘌𝘥𝘪𝘯𝘣𝘶𝘳𝘨𝘩 𝘤𝘩𝘢𝘭𝘭𝘦𝘯𝘨𝘦 
👉 77,000 𝘴𝘵𝘦𝘱𝘴 𝘢 𝘸𝘦𝘦𝘬, 77 𝘴𝘲𝘶𝘢𝘵𝘴 𝘢 𝘸𝘦𝘦𝘬, 77 𝘴𝘪𝘵-𝘶𝘱𝘴 𝘢 𝘥𝘢𝘺
👉𝘔𝘢𝘬𝘦 𝘢𝘯𝘥 𝘴𝘦𝘭𝘭 7 𝘵𝘩𝘪𝘯𝘨𝘴
Together we can transform the future for everyone affected by pancreatic cancer. 
I would like to thank you for any support you can give me to help make a difference in ensuring early diagnosis and cure of pancreatic cancer. 
With all best wishes and a massive thanks in anticipation, 
Jen x
Share
Thank you to my Supporters Emma Barlow Janice Megram Carolyn And Janet Geoff Rowley Tma Uk Deborah Dean John Walsh Charlotte Hughes Helen Giardina Paul Johnston Flowtech Fluidpower Sp Martin Rivers Emma Barlow Geoff Ck Neil Sharma-burford Merrall Stanworth Steve And Angela Merchant Roly Sarah O'toole Colin Haig
Ian Hellewell Justine Francis Mike Kyme Tommy Colin Haig James Hulme Stretham Dog Walkers /jacky & Pete Saunt Adrian Validis Anthony John Wheatley Denham Wolsey Stretham Dog Walkers Stretham Dog Walkers Anonymous Ag - Ooh Err Band Nick Smith Francesca Hughes
Jenny Oldfield Roger Mcdowell Stretham Dog Walkers - Shahin Paula Whipp Stretham Dog Walk Jane Stone Michele And Norton Asbury Denise Jones Stephanie Edgar Paul Marioni The Mighty Maelstrom Aaron Hughes Stretham Dog Walkers Joe Anwyll Ashley Middleton Ian Gray Andrew Mclaren Dcw Penny
Tim Hawkins Tom Weedall John Noon Monica Baghi Chris And Nicole Vicary Adrian Doble Jan Megram John Dowd Rob Milner (m2) Anonymous Philip Watkins Stretham Dog Walkers Bill Dixon
Dani Maxfield Anonymous Matthew D Joanne Rumley Stretham Dog Walkers Will Gunston Ooh Err David Jones Toby Bundy Howard Fletcher Rachel Edmondson Carolyn Hockridge David Hudson Claire Holland Tracey Mais Philip & Jill Wright Colin Page Sarah Bradford, Stretham Dog Walkers Shaun Russell Anonymous Lara Prentice Stetham Dog Walkers - Robert Audas Nigel Hardy Phil King Paul Fraser Philip Squire Harry Margetts Will Deas 'stretham Dog Walkers - Jonathan Wheeler David Rushton Gera Noto Peter Jones O&b
Duncan Wilkinson Vincent Flynn Sylvia Bradley-tune Sarah Poole Jacqueline Coward Chris Wallis Samantha Phillips Jay N Dani Melanie Farquharson Alison Battley
Gabrielle Copeland David Shambrook John Wood For 'stretham Dog Walkers' (jad) Kevin Chamberlain Hina Michael James Hodson Sally Hare Anonymous Simon Longfield Mike Mattok Mohie Das Stretham Dog Walkers
Claudia And Craig Malcolm Stretham Dog Walkers - Mike Browning Chaithanya Kumar
Claire Potten Anonymous Anonymous Michael Smith Paula Ward Christine Jordison Lesley Robertson And Mark Robertson Jim Davies Barbara Middlehurst Not Known Mark Wootton Peter Barton And Lorna Jewitt Susan Moor Paula Whipp Stretham Dog Walkers-kelly Jones Anonymous Paul Marriner Ricky Loftin Anonymous Jas Mall Grow With Us Ltd David Nadler Simon Jones Karen (hairdresser) Karen Townsend Stephanie Dean Anonymous George Younger Catherine Walker Grahame Lance Wright Jon Howells Catherine French Lance Wright J Dutton Nicola Szczepaniak Milly Camley Roger Lowe
Jane And Geraint Evans Fraser Pearce Narjas Windo Theo Smith Sally And Sean James Waldie Brain Ellis
Anonymous Beth Hennessy Anonymous Barbara Speake
Donna Lewis Denny Alford Faith Sykes
Julie Yates Sharon Timmers
Stef Kusznierski Valerie Godbee Anne