Jan just donated

£10.40

Laura just donated

£15

Sheila just donated

£104

Stanley just donated

£26

Julie just donated

£20.80

Sharon just donated

£20.80

Polly just donated

£5.20

Aislinn just donated

£10.40

Margaret just donated

£10.40

Jennie just donated

£10.40

Stephen just donated

£10

Tim just donated

£1,015

Tim just donated

£635

Hardev just donated

£30

Bridget just donated

£20.80

Stephen just donated

£100

Georgie just donated

£30.16

Gemma just donated

£20.80

Pamela just donated

£62.40

Stephen just donated

£60
Coronavirus (Covid-19) update - It would not be right for us to tell you what decision to make about your fundraising, and circumstances will change - but we ask that you carefully consider the Government's official advice when choosing your fundraising challenge.
You can take on Challenge 24 however you would like but here are some ideas to get you started...
Walk, run or cycle a mile a day for 24 days
Commit to doing a home work out every day for the next 24 days
Give up something you love for 24 days – whether it's chocolate or alcohol, you choose!
Register today
Ask friends, family & colleagues to sponsor you!
Order your fundraising items to your door
Take On Challenge 24
Pancreatic cancer doesn't stop during a pandemic. Your support is needed more than ever to help fund life-saving research into earlier diagnosis and faster treatment.
If you have any questions or would like to discuss anything further, please contact fundraise@pancreaticcancer.org.uk and we will support you every step of the way. Thank you so much for supporting Pancreatic Cancer UK, it really will make a difference.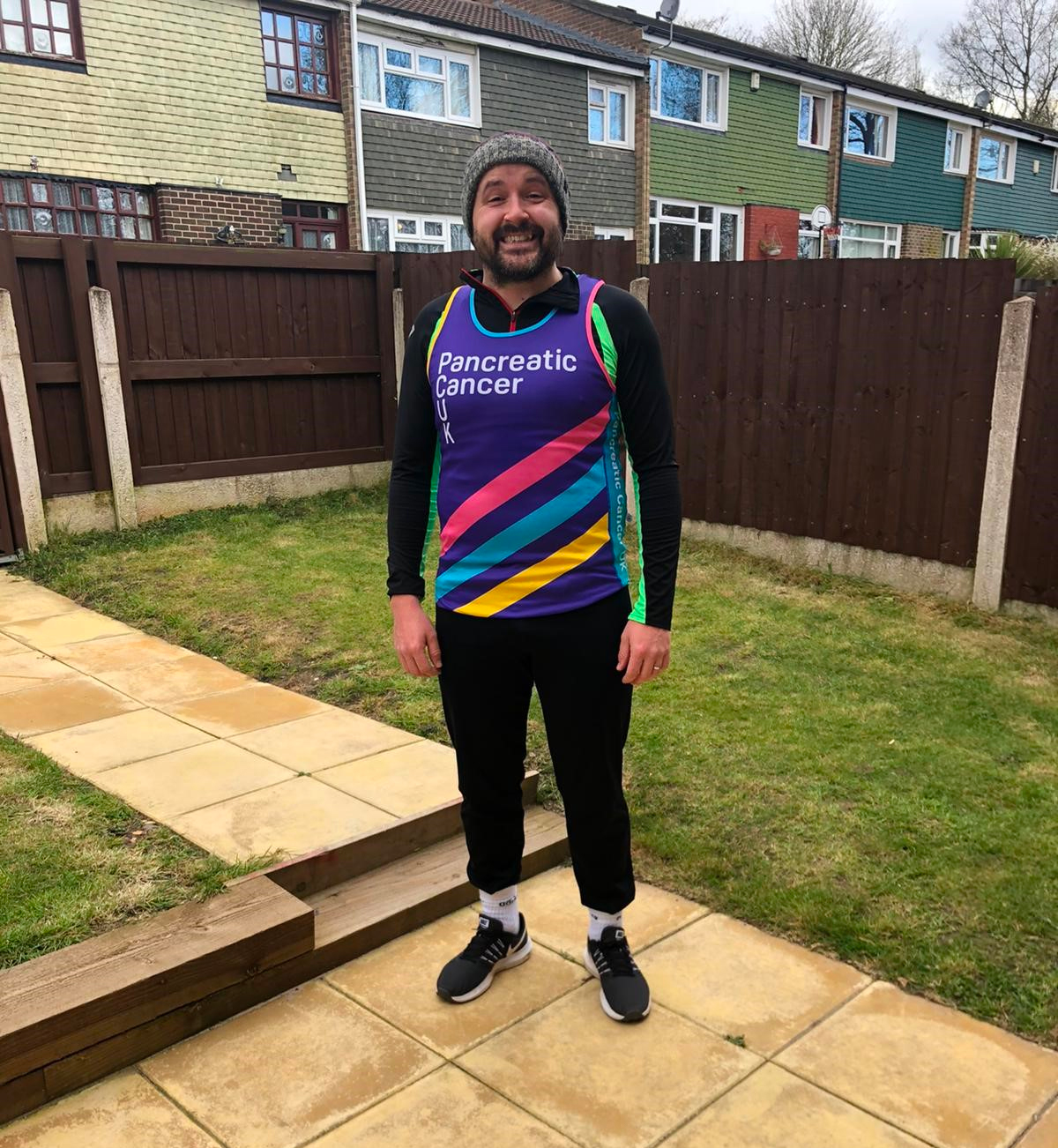 Andrew's story
I decided to take on Challenge 24 for Pancreatic Cancer UK as I lost my mom to pancreatic cancer in January after a very short time between diagnosis and her passing.
For my challenge 24 I chose to run 5km 24 times throughout the month. It's been made a little bit more difficult with the restrictions on movement because of COVID-19, but I've found it a lot quieter and fresher on the streets, which has been a bonus.
It's been an overwhelming experience and I exceeded my target within 24-hours of putting my fundraising page live. I've raised over £1,500 now and I'm genuinely gobsmacked at people's generosity. My mom was a fantastic woman and knowing that so much money has been raised in her memory would have left her speechless. I'm truly honoured to have done this for her.
Your donations will help us:
Fund vital research
Provide specialist support
Campaign for change
Other ways to get involved…